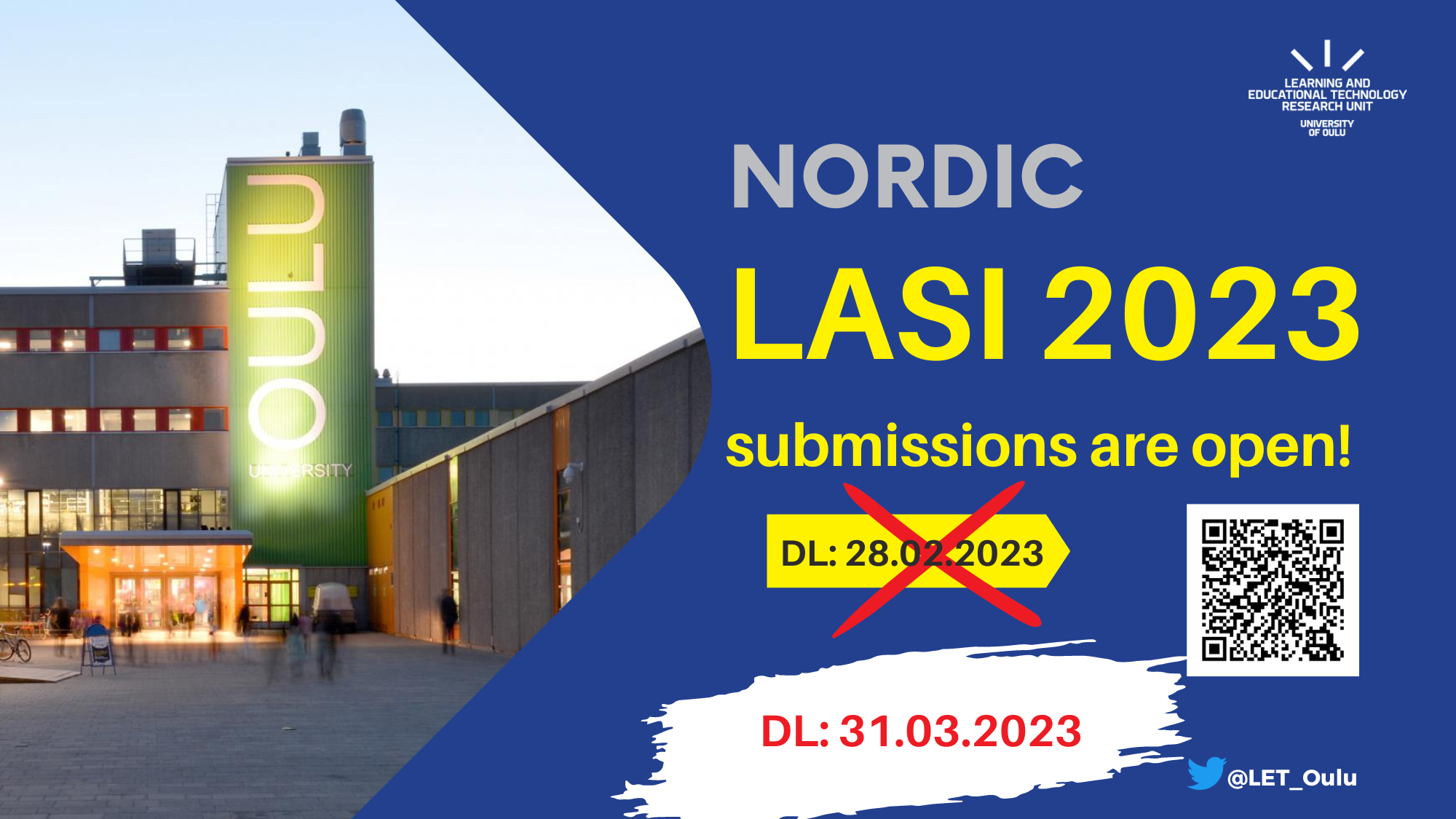 Nordic Learning Analytics Summer Institute 2023
University of Oulu, Finland,
Digitalization has brought new opportunities to understand teaching and learning processes. It enables researchers to uncover the underlying mechanisms of learning, that until recently have not been accessible, to improve learning. It also helps teachers and educational practitioners to provide better support to their students across the education field. Multimodal data analysis has especially contributed to the deeper understanding of complex learning processes.

LEARNING ANALYTICS SUMMER INSTITUTE SPAIN 2022 (LASI Spain 2022)
Salamanca, June 20.-21., 2022
The COVID-19 pandemic had a massive impact on face-to-face teaching methodologies. Several methodologies arose to overcome the health emergency through digital means, which also involved adapting both instructors and students to online learning approaches. Although this crisis has served as an opportunity to embrace new methods and tools, some may see these changes as a temporary stopgap as the situation normalizes to return to previous teaching methodologies subsequently. However, the sudden shift from face-to-face to online education has paved the way for some research areas to shine. In this sense, learning analytics provide the necessary methods to not only analyze and improve learning outcomes during the COVID-19 pandemic but to maintain quality teaching and learning methods even after we get to the "new normal."

Nordic Learning Analytics (Summer) Institute 2022, Stockholm
Stockholm, June 13.-14., 2022
We are pleased and excited to finally welcome you to the next Nordic Learning Analytics Summer Institute (NLASI 2022) to be held at KTH Royal Institute of Technology, Sweden, 13-14th of June 2022.
The theme of the Summer Institute is Learning-Centered Analytics: Supporting Education
Learning analytics can improve learning practice by transforming the ways we support learning processes. However, recent research efforts exhibit that learning analytics has largely been applied to measure multifaceted learning activities rather than to provide relevant support for learners and teachers. Consequently, this year Nordic LASI makes a special focus on the support mechanisms that can be offered to learners, teachers, and researchers through learning analytics and artificial intelligence.